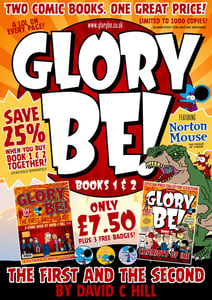 £

5.50 - On Sale
If you're new to Glory Be! this is your chance to purchase a special double pack and save 25% on the cover price of both books combined.
Not only that but you'll also receive not 1, not 2, but 3 FREE 38mm full colour badges AND 'The Norton Mouse Journals' comic from 2010.
As Book 2 is strictly limited to 1,000 copies you'd be advised to snap this bargain up pretty sharpish.
Book 1 is signed by the artist and writer, David C Hill.
Book 2 is numbered (out of 1,000) and signed by David C Hill.