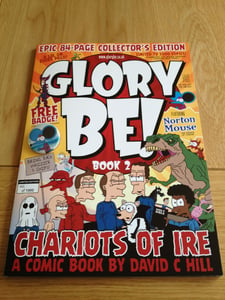 £

4.00 - On Sale
"Incredibly professional!" - Bleedingcool.com
"A LOL publication" and "Even funnier than Book 1!" - reader reviews
Buy today! Only 1,000 copies in existence! Well, only 900 currently remain.
The denizens of the most dysfunctional church in the whole of creation return for more madcap adventures.
Pastor Peter Loftus organises the Christian Olympics, but has trouble keeping his troubled sheep focused on the task in hand.
Alongside the usual hilarious e-mails and church noticeboard missives, we have strips like "Sunday School Question Time", "The Jehovah's Witness on the Doorstep" and "The 7 Types of Former Christian" - plus a plethora of mirth and gaiety.
Also featuring Norton Mouse, the blue rodent with a fetish for cheese and purple sweaters.
Contains mild peril and adult themes, so is recommended for children over the age of 13.
*Includes FREE 38mm full colour badge.
*Strictly limited to 1,000 copies. Each issue is numbered and signed by the artist and writer, David C Hill.
*84 pages! Full colour, with a gloss laminated cover.
*NOTE* Please choose your badge option from the drop down menu below. You can view the options by clicking the second image.